Polyslab Pump Covers (PSPC)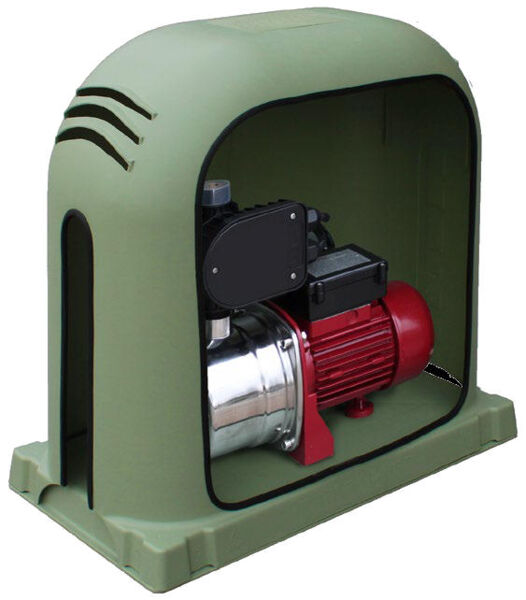 $110.00
Including GST. Item price only, does not include installation.
About the PSPC
Poly Slab Pump Covers designed in consultation with leading Australian and International Pump Manufacturers, finally a pump cover is available that has been designed with purpose. The Polyslab Pump Cover is easy to install and unlike other covers in the market, they protect pumps from everything the harsh Australian environment has to offer. Available in 16 colours and boasting a long list of advantages, Polyslab is the easy, economical, and superior choice for protecting your investment.
Size: 630mm Long x 320mm Wide x 590mm High Features. Benefits:
Matching base included at no extra cost.
Lightweight: cover = 2.7kgs, Base = 1.6kgs (a concrete base of similar dimensions will weigh upwards of 24kg).
UV Stabilised
Water resistant cooling vents create a natural thermal convection preventing equipment overheat.
Easy to follow cut and snap pipe entry points.
Emergency water duct allowing water to escape in case of pipe failure.
Multiple footing points to secure cover to base.
Stylish design means no more rusty steel or unsightly bulky covers.
No new methods - install the base as you would concrete slabs/pavers, only easier.
Stackable design.
Polyslab will not chip or crack like concrete reducing the costs associated with wastage.
Each individual Polyslab design is the result of detailed and costly structural engineering and analysis
Evolve Composites sources only the highest quality materials.
Our controlled manufacturing processes guarantee superior, high strength products.
Polymer design ensures Polyslab won't corrode or grow mould like unsightly concrete bases.
UV Stabilizer is rated for at least 8-10 years, actual product life extends past the UV stabiliser rating.
PSPC Colours
Wind Spray

Surf Mist

Merino

Smooth Cream

Beige

Charcoal

Woodland Grey

Heritage Green

Rivergum

Mist Green